2018 Post-Display News
07-9-18
The show was amazing this year! A perfect sequence of consistent shells, lasting 20 minutes, with no shell misfires. Great crew, great tempo, and an all-around great fireworks display. Thank you to the crew, the city employees, and everyone involved. You ALL make it possible and successful.
During morning setup we did a local news interview. Check it out: LPNN Interview.
2018 Pre-Display News
06-13-18
The planning is nearly complete. All fireworks products have been selected (1773 total fireworks), main firing line and finale layouts drawn up, 3 day schedule put together, hotel rooms booked, crew selected, crew dinner planned, and out-of-town crew flights booked. Looking good with 21 days until July 4th.
We think it's important to note that the crew size has been reduced by 50% over the past 3 years. What once took over 21 people can now be done with 11. This is a remarkable achievement in coordination and safety, while producing a better display.

2018 Crew: Mike Kreidel, Ryan Hertz, Brian Corbett, John Borhek, Jeff Marshall, Matt Schwall, Jeff Szabo, Jason Grossman, Rebecca Wilson, Dave Uihlein, Sergio Perez.
Finale Layout: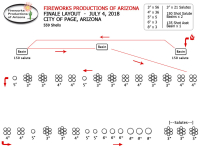 05-03-18
Preparations are underway for the 2018 Fourth of July display in Page, AZ. We are working on some new features this year and will post these when they're finalized. Show is being put together and crew will be selected within the month. Stay tuned for more details!
---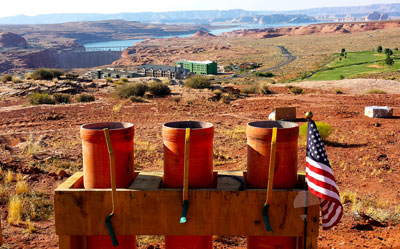 2017 News
07-05-17
Amazing show this year! Our new setup is fantastic and being able to pre-load half the show is a huge deal. The reloading now is minimal, with the average reloads down to 3. The display consisted of 1773 shells ranging in size from 1.5" through 8" in diameter, and lasted exactly 20 minutes. Launched from the rim of the Lake Powell National Golf Course, the fireworks display was seen by most of the city of Page as well as boaters on the very south end of Lake Powell. Please look at the Viewing Locations Map, and pick a good spot to watch from in the future.
---
No Data for 2015 or 2016
---
2014 Post-Display News
07-05-14
The display was amazing as always! The crew this year was rock solid! All 7 "newbies" did very well, and are invited back anytime. The day wasn't without it's problems though...
The morning of July 4th started normally with burying the mortars at the launch site. Rain and winds were forecast all day, and around 2:00 it started raining and blowing. We were still at the hotel at this time, but Brian and I were watching the radar and decided to head to the launch site to cover everything. We got there just in time to cover the delicate finale mortars, which are cardboard and can get ruined very easily. Got the finale covered, and somewhat secure. The wind was blowing so hard we couldn't get the tarps secured properly. Managed to find enough rocks to hold them down though.
Then we moved up to the main firing line mortars, which are steel and can handle some rain. We used the "Kendon Rain Proofing" method of covering the entire line with a huge sheet of "Pallet Wrap"!! Worked like a charm. We've never had to deal with rain at the Page, AZ / Lake Powell Fireworks display before.
We arrived at the site around 3:30 and started loading and fusing the finale. About 5:30 it rained again and we scrambled with tarps and pallet wrap. The finale was fused and exposed for some of the rain and during the show the finale went out...for the first time ever! No problem though, we were right there ready to re-light.
At 9:00 the winds and rain had stopped, and we launched! The whole display was great, for beginning to end. We shot 1841 shells in 21 minutes, and didn't have one shell misfire. The quality of the fireworks nowdays is amazing. Rarely does a shell not do what it's intended to do.
A huge thank you to my Page/Lake Powell Fireworks Crew, and a special thanks to Fireworks Productions of Arizona.

2014 Pre-Display News
06-25-14
Final Crew Email sent out today. If you did not receive it please contact me asap.
We're all set...see everyone in 8 days!
06-20-2014
Fourteen days from the 4th of July and plans are nearly wrapped up. Fireworks are ordered, schedules are made and the crew has been selected. I redesign the show every year, but this will be the first time in 3 years that the show has not added more shells. So I've changed it up using the same products as last year and moved a few things around. It's going to be awesome!
With a total of 1841 shells, the main body of the display consists of 1339 fireworks, with sizes of 1.5", 3", 4", 5", 6" and 8" shells, and the grand finale has 502 shells. The entire show lasts right around 20 minutes and is mostly "hand-fired", but some fireworks are set off using a wireless firing system.

Crew Members, expect the final email with full schedule on June 25.
2014 Crew: Mike Kreidel, Ryan Hertz, Brian Corbett, John Borhek, Jerry Halfmann, Bill Beard, Jeff Marshall, Kyle Walker, Rochelle Ladner, Rebecca Wilson, Jeff Szabo, Matt Schwall, Chris Stemple, Steve Reidmueller, Kerri Magee, Anthony McCoy, Senda Kim, Shelly Warner, Jason Grossman, Alissa Jones, Okie Jones, Aaron Rausch, Lisa Harris, Clyde Holland, Matt Lund, Andrew Lizotte.
| | |
| --- | --- |
| FIRING LINE LAYOUT: | FINALE LAYOUT: |
---
2013 Post-Display News
07-9-2013
This years display was our BEST EVER! The pace was amazing, and we shot 1841 shells in 22 minutes. The show went off perfectly with the exception of one 3" shell failing and going off on the ground. All the new basins were awesome, and the wireless system proved to be a great investment once again.
The finale was fused perfectly by Ryan and Brian. The burn rate was perfect, and exactly where it should be. 702 shells in the finale this year and it was truly stunning! Watch Videos
The crew this year was fantastic. Quite a few newbies, and they all rocked!
2013 Crew: Mike Kreidel, Ryan Hertz, Brian Corbett, Louie Lehman, Bill Beard, John Borhek, Kyle Walker, Jeff Marshall, Rochelle Ladner, Roland Schebesta, Rebecca Wilson, Jeff Szabo, Chris Stemple, Steve Reidmueller, Kerri Magee, Jim Crowther, Jon Barnes, Jason Grossman, Ashley Hamilton, Alissa Jansen, Okie Jones, Kelly Ann Grey, Jerry Halfmann.

2013 Pre-Display News
06-14-2013
Everything is looking good for this years Page / Lake Powell 4th of July Fireworks Display. Crew is set, show is designed and we are just 20 days away! This years show will be very similar to last years except we have once again added More Shells. Total for 2013 is 1841 shells, our largest show ever. More news coming soon, stay tuned!
---
2012 Post Display News
07-8-2012
What an amazing display! For sure our best ever, and I'm very proud of my crew. Lots of changes to the show this year and they all worked out perfectly. We shot many new products, the most shells ever, and pulled it all off without any issues. A perfect show!
2012 Lake Powell Chronicle Frontpage Article
6-13-12
View the Article

2012 Pre Display News
05-18-2012
New and Redesigned show this year! Product has been ordered and the show program layed out. We've added more multishot basins and more 8" shells. This years show will have 1766 total shells! With the new 'wireless firing system' we now have the ability to choreograph more of the show and shoot specific shells on cue. Can't wait, it's gonna be awesome this year.
Public Viewing Notice: The best viewing spots for this years display will be north of the firing site, i.e, Lake Powell Natl Golf Course & Clubhouse, Natl Park Service HQ, Dennys, Hwy 89 pulloff loops, along N. Navajo on the upper rim. Some of the show features "low level" fireworks and these can't be seen all over the city.
04-24-2012
Just returned from Fireworks Productions of Arizona Shooter School last weekend. Trained 4 newbies who walked away so excited they could hardly stand it! 7 of us attended the school, which was the best one I've ever been to. Great job FPA! We are grateful for all you do and proud to work for your fantastic company.
---
2011 Pre Display News
06-28-2011
Everything is set. Crew is assigned, city contacts made, fireworks delivered, ready to go! The main crew email with the 2011 schedule was mailed out Monday June 27. If you did not receive yours please contact me. We are go for launch! Please note the new crew arrival time, 7:00pm.
2011 Crew Selections: Mike Kreidel/head pyro,producer - Ryan Hertz/lead pyro,shooter - Brian Corbett/asst pyro,shooter Bill Beard, John Borhek, Chris Moore, Bryan Tiller, Megan Parks, Lorin McLain, Jeff Marshall, Josh Ford, Matthew Lewis, Louie Lehman, Chris Stemple, Rochelle Decker, Brent Decker, Brandi Decker, Matt Stearns, Marlies Adams, Levi Tappan, Jeff Szabo.
06-08-2011
Got started on the prep a little later this year due to me actually being busy. Anyhow, things are moving along nicely now. Fireworks ordered, rooms booked, schedules made and the crew is coming together, although many regulars can't make it this year. Dan has a new gig at the North Rim and cannot shoot this year, but Ryan makes his return from Chicago to shoot the show along with Brian.
---
2010 Post Display News
07-10-2010
Every year the display gets better and I think this year was no exception. We fired the most shells ever and the finale was our best yet. Only one minor issue, the opening basin only fired 1/3 of it's shells before exploding and failing. Luckily the main fuse went out when the box blew apart or there could have been shells flying everywhere! Dodged a bullet there for sure. The finale was spectacular and featured over 550 shells lasting around 1:20. Something amazing to see is at the very beginning of the finale where one of the 150 shot salute basins was 'double fused' and went off in about 8 seconds (2010 Finale Video). Thanks to all my crew for another great display!
2010 Pre Display News
06-30-2010
All display details are finalized. Crew is selected, city crew is confirmed, product available, and schedules posted. All other steps have been taken and we are ready for launch!! This is probably the last news until the "post display" news. **Follow us on FACEBOOK for real-time updates on July 3rd and 4th. Have a great 4th of July everyone!
06-15-2010
Everything is falling into place for this years display. We have upgraded the show to over 1350 shells which includes some nice new products. One big change will be the lack of 10" shells. Federal regulations prohibit us from shooting anything larger than 8", so that's what we shoot now. Sorry folks...out of my hands on this one. The Grand Finale has been redesigned (again) with 3 - 8" shells replacing the 10's and new basins and shell layout. Crew Emails Sent out 6-17 and 7-1. If you did not receive yours please Contact Me right away.
2010 Crew Selections: Mike Kreidel/head pyro,producer - Dan Noonan/lead pyro,shooter - Brian Corbett/asst pyro,shooter - Bill Beard/loader - John Borhek/loader - Kyle Walker/loader - Chris Moore/loader - Bryan Tiller/loader - Jim "wagonburner" Davis/loader - Anton Teschner/loader - Jesse Warnock/loader - Roger Pallanes/loader - Gabriel Garcia/loader - Maggie Cummins/loader - Jeff Marshall/loader - Gavin Giesecke/loader - John Barr/loader - Alex Randel/loader - Stephanie Zachrison/loader - Robin Marquis/loader - Jerry Halfmann/photographer
---
2009 Post Display News
07-07-2009
What an amazing fireworks display Page/Lake Powell was treated to this year! With over 1250 shells it was the largest show ever produced and went off as smoothly as it came together. Thanks to my expert crew and everyone who helped, the show couldn't have been more perfect. Complete Recap being prepared right now...stay tuned.
2009 Pre Display News
06-30-2009
Crew Selection Finalized, Display Finalized, All Plans Finalized. We are completely ready for the 4th and everything is in order. My "Chicago Crew" arrived at Lake Powell today for 4 glorious days on their houseboat. The "Prescott Crew" will arrive at the lake on Thursday morning and join them on the houseboat for 1 1/2 days of fun and pre show relaxation. Get ready Page/Lake Powell, we are geared up and excited to deliver another world class fireworks display for you! Follow the latest Updates on Facebook while we're on the lake.
06-28-2009
Crew Emails sent out this morning. If you did not receive an email please contact me immediately.
2009 Crew Selections: Mike Kreidel/head pyro,producer - Ryan Hertz/lead pyro,shooter - Dan Noonan/asst pyro,shooter - Brian Corbett/shooter - Bill Beard/loader - John Borhek/loader - James Doyle/loader - Kyle Walker/loader - Jim "wagonburner" Davis/loader - Steve Banke/loader - Sherwood Cornforth/loader - Lorin McLain/loader - Anton Teschner/loader - Brenton West/loader - Rob Nelson/loader - Jeremy Hart/loader - Jesse Warnock/loader - Roger Pallanes/loader - Gabriel Garcia/loader - Brandon Rudisill/loader - Maggie Cummins/loader - Mike Madsen/loader - Jerry Halfmann/photographer
06-07-2009
It's that time of year, the annual Page/Lake Powell Fireworks Spectacular is under a month away and we are excited! Looks like this years show will be equal to last years show with a few changes. Federal Regulations have limited our use of "large diameter shells", most notably the 10" shells that we shoot. We will still shoot a few 10" shells this year but have been forced to switch to 8" shells for the large shells that happen during the main show. There will be 2 - 10" shells to close the Grand Finale and those might be the last two shells of that size to be fired at this display for some time to come. No big deal, the 8" shells are great and produce nearly the same effect. There will be a new "rhythm" to the show this year because our good friend Dan Noonan is back! Dan was in China working for the Olympics last year and was not able to make the show. He has been involved with this display for over 8 years and we are glad to have him back. I have made a few design changes to the display as well but you'll have to show up and see what they are.
---
2008 Post Display News
07-08-08
Wow, what a show! Everything worked out perfectly this year. We were able to start setting up around 4:30, which gave us a fair amount of time to relax before the show. It was windy all afternoon and rain looked very promising but the rain stayed away and the wind blew right up until showtime, then nearly stopped. The fireworks gods were watching over us for sure. We were set to shoot the largest fireworks display Page, Arizona and Lake Powell have ever seen. Lake Powell Fireworks The Show - (* Opening Video *) We opened the show with a 100 shot basin, then fired 20 shells ranging from 3"-5" just before the basin quit. It was a great opening, full of noise and color. Ryan "fused" the opening this year...and it worked! Ryan Hertz, lead pyro and shooter, has been a member of this crew for the past 6 years. After the opening, the show went on just like past years shows except we had a new shooter this year, Brian Corbett. He took the position that was held by my other veteran shooter, Dan Noonan, who is in China cooking for the Olympic team. The shell selection this year was great. Many new shells of all shapes and colors. Some really cool new effects that I'm sure the crowd loved. The "main body" of the show consisted of around 550 shells ranging from 3"-10" in diameter. In the middle of the main show we fired a specialty basin that was 100 shots of golden palms, fanning side to side across the sky. There were only 2 misfires this year. The very first 10" shell that we shot exploded right in the mortar ( *10" Misfire Video* ). Not a pretty sight but a spectacular one none the less. I will never be comfortable with that happening but I am almost used to it by now. Misfires are part of any fireworks display. They always happen but if you take the proper safety steps and plan for them, then they are usually harmless. There were a few slower than normal parts of the show. This I believe was due to "shell-shock" by a few of the newbie loaders. You can't explain to someone what it's really like on the firing line and when they finally experience it, it can be overwhelming at first. Overall the newbies did a fine job, as did the entire crew. (* Crew Member Pics *) The Finale - This years Grande Finale was the biggest ever. We fired over 500 shells in just about 90 seconds. 300 of those shells were 1.5" Titanium Salutes, 100 were 1.5" Specialty Comet Shells, and around 107 large shells ranging from 3" - 10". The finale was loud, bright, colorful, choreographed and finished with a huge barrage of large diameter shells, ending with 3 - 10" booms! There are numerous videos of this years finale on this page as well as on the 2008 Finale Videos page. In a word, the Page/Lake Powell Fireworks Finale was spectacular! I found a video on YouTube of the finale. Looks like it was shot from the Basha's parking lot. It's small but shows the finale from a view that we never get to see ( FOH Finale Video ). ( Multi-View Finale Firing Line & Finale FOH ) New Images Here | New Videos Here more post display news soon...
2008 Pre Display News
05-20-08
Fireworks are ordered! More New Products this year. 2-150 Shot Basins and 3-100 Shot Basins! Total of 1228 Shells in this years show...wow! (re: last years show featured just over 700 shells) 05-24-08 Preparation begins for the 2008 display. Site plans are drawn, new finale setup is layed out. Huge Finale this year. over 700 shells !! Main Firing Line Layout -- New Finale Layout The main firing line will have 35 mortars ranging from 3" to 10" in diameter. These are the steel mortars that get reloaded during the show and are buried in the ground. This years finale (507 shells) will blow away all other years by 400 shells! Again this year the finale will become the highlight. Starting the finale are 2 - 150 shot Titanium Salute Basins and a 100 shot - Poison Spider Basin. The 2 - 150 Shot Salute Basins and a new 100 Shot Spider Basin all at the same time should last approx 40 seconds and launch 400 1.5" shells! Then, instead of going in a progressive sequence from 3"-10", I have decided to alternate the 3" & 4" mortar racks. This should produce a "multi-layered" effect in the sky, with the 3" shells exploding lower than the 4" shells at the same time. Then the finale works it's way into the 5", 6" and 10" shells to close it out.
2008 Crew Selections: (* Crew Member Pics *) Mike Kreidel/head pyro,producer - Ryan Hertz/lead pyro,shooter - Brian Corbett/shooter - Bill Beard/loader - John Borhek/loader - James Doyle/loader - Kyle Walker/loader - Chris Moore/loader - Jim "wagonburner" Davis/loader - Steve Banke/loader - Sherwood Cornforth/loader - Troy Cornforth/loader - Jeff Skinner/loader - Lorin McLain/loader - Anton Teschner/loader - Brian Groves/loader - Dan Reno/loader - Tom Reynolds/loader - Tony Swartz/loader - Rob Nelson/loader.
Dan Noonan, my other main shooter for the past 4-5 years is working in Beijing, China for the summer Olympics and will not be able to shoot this year. He is a world class Chef and his talents are needed there to feed the athletes. Have fun Dan, we will miss you this year! Brian Corbett is taking over the #2 shooter spot this year. 2008 Crew is all set. A few more people than usual this year because I plan on having some "can tenders" to mind the storage can lids. Show is 1 week away and everything seems to be in order.
---
2007 News
07-02-07
Ryan arrives from Chicago (via Vegas to Flagstaff) with his boss Steve Banke, who will be a loader this year. Ryan has been my main shooter for 4 years now. Dan Noonan is my other main shooter.
07-03-07
Mortar Day... arrived in Page at 2:00 to bury mortars in the 106 degree heat, in the desert! Not too fun after a huge night in Flagstaff partying for Johnny B's birthday. These steel mortars are very heavy in the sun. I bet those 10" mortars weigh at least 150lbs each. Anyhow, it was hotter than hell and this is always the worst part of the job. But it usually only lasts about 1 1/2 hours, and today was no exception. Just too hot to do all the final "dig-ins" (shoveling around the mortars). We just setup and got out of there.
Main Mortars - Photo Courtesy of Ryan Hertz -- Main Mortars - Photo Courtesy of Ryan Hertz
07-04-07 - Pre Show July 4th !!
The day has arrived, my favorite day of the year. All day off to relax and that's what we did. Met James and John (with their trucks) at 4:45 to go to pickup the fireworks. It used to be a 1 truck job, not anymore. More product, more stuff, more, more, more. Everyone is to meet at 5:15 and then down to the site at 5:30. Everyone shows up and we head down to the launch site. Trucks get unloaded and shells unpacked into their respective holding cans. Meanwhile I am "fusing up" the finale with the help of a few crew members (Dan, Athena, Jim). This years finale is entirely new. Not only is the design different but there is a new product starting it off. The 150 shot Salute Cake will begin the finale and it should last approx 25 seconds. The cake is fused right into a length of fuse leading to the main finale mortars. Once the cake finishes it will light the lead fuse for the main finale. ( In the lower left photo you can see the fuse running away to the right from the main finale ) Finale Setup - Photo Courtesy of Ryan Hertz -- Finale Setup - Photo Courtesy of Ryan Hertz July 4th - Post Show Fantastic show! From the opening 20 shell salute, to the "new" extended finale (which gets reviewed below), it just rocked! Opening: Even though I give the order to fire (@9:00pm), the opening shocked me. I expected a nice easy fire sequence, similiar to last year, but it was much faster. The "quickmatch" (long length of continuos fuse) was much faster burning this year than normal. It's a very violent burning substance anyhow, but it was especially fast this year. Anyhow, my "20 shell opening" went off like a machine gun ( Watch The Video ). Scared the shit out of me! The body of the show was perfect for the most part. Great rhythm, constant firing (thanks to my shooters, Ryan Hertz and Dan Noonan) and some interesting combinations of shells. There were obviously many new shell patterns this year. Luckily from my seat I can watch most of the show...unlike my crew (sorry guys). There was only one stop in the show, we had a faulty road flare at around 16 minutes in. Took us about 20 seconds to sort it out. Like most firework displays, there were a few "minor" issues (as I like to call them). I don't get rattled very easily by most fireworks that don't operate as they should. But when the largest shells that we shoot, the 10" shells, don't fire correctly, we have an issue. We had 3 - 10" shells go off right in the mortars! Thank God for that thick steel pipe because those were serious and very scary. As of this writting I do not know the cause of the "flowerpot" (shell blows in the tube). Unfortunately, after the third one blew in the mortar, I stopped shooting them. So we only shot 9 - 10" shells this year. Three of which were fused into the end of the finale and went off perfectly. Main Finale: The main finale went off like a machine gun! 140+ shells in about 20 seconds. What a sight. Ending with 3 - 10" shells covering the sky from over 1200 feet!. ( Watch The Video ) **Make sure to check out the New Videos Page for all the latest videos.
2007 Crew: Ryan Hertz - shooter, Dan Noonan - shooter, Bill Beard - loader, John Borhek - loader, James Doyle - loader, Brian Corbett - loader, Bryan Tiller - loader, Chris Moore - loader, Athena - loader, Jim Davis (Burner) - loader, Steve Banke - loader, Troy Cornforth - loader, Woody Cornforth - loader, Jeff Skinner - loader Thank You Crew ! Without my crew there would be no display. By the grace of God, I always find 11 guys willing to help me blow the place up. Thank You Crew! Great work!