Due to massive supply chain issues, the City of Page July 4th Fireworks have been Cancelled. We feel terrible for the city and it's residents. We simply do not have enough product to supply our usual 90 shows on the 4th.
From The City:
The map below shows the fireworks launch site and best viewing locations within the City of Page.
The fireworks display is visible throughout the entire city and for miles beyond. But the best experience is closer to the launch site.
Green Arrows
are Suggested Viewing Locations,
Red Area
is the Launch Site. (View area on
Google Maps)
From The Lake:
The fireworks display is perfectly visible by boat from the South End of Lake Powell, near the dam.
Our Advise?
Without entering the Restricted Area, get as close as you can! (see Restricted Area Map below)
Fireworks begin to lose their full impact the farther away from the launch site you are. The area offers plenty of great viewing locations that are close enough to get the full experience. Plan ahead and enjoy.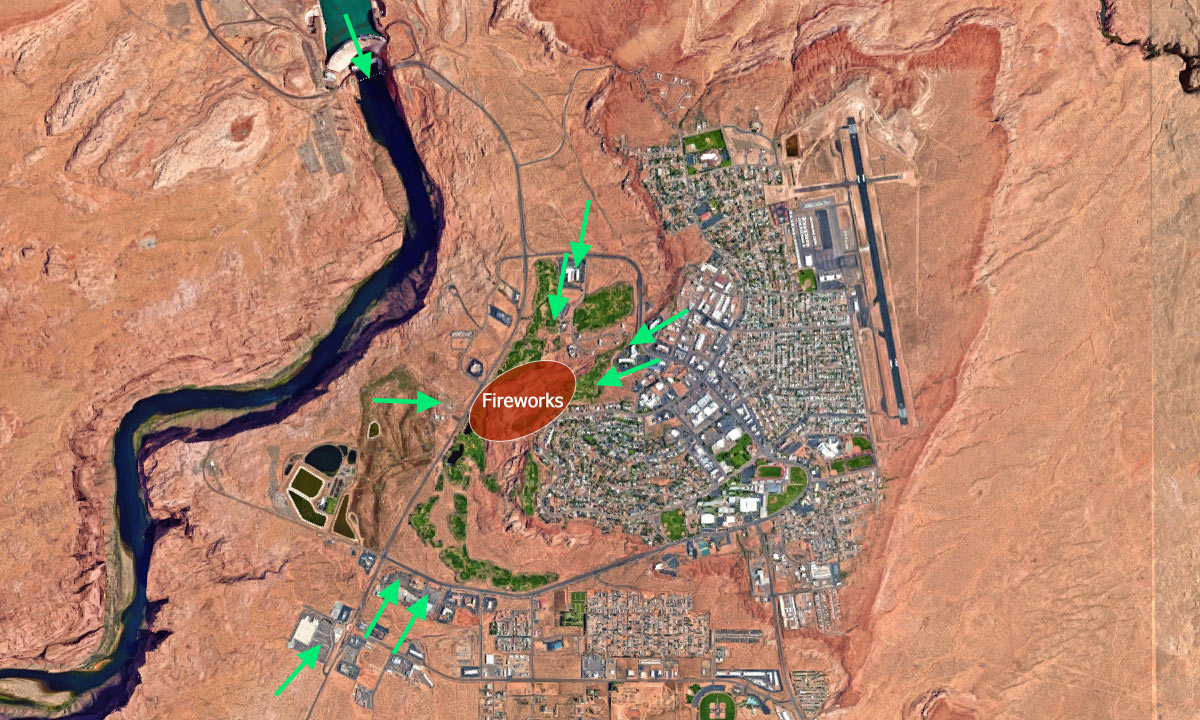 Restricted Areas:
Golf Course Holes #13(all), #1(most), #12(half). Rim of Golf Course Holes #13(all), #12(half).
*Fire Dept/EMS Staging Lot at N. Navajo & Date St. Rim Trail below Golf Course Holes #13(all), #12(half).
Below the Rim or On the Rim within the Restricted Area.
*Fire Dept staging lot is Only for FD, EMS, PD, Fireworks Crew and Authorized Individuals. No Public Access to viewing areas.
No Unauthorized Entry into this area is permitted after 3:00pm on July 4. Strictly enforced!


This map is Accurate and to scale.