Do you need a fireworks display for your event? Event Fireworks Displays in Arizona.
We provide firework displays, event fireworks, special effects, and event effects throughout the state of Arizona. Fireworks for events, resorts, weddings, corporate functions, graduations, sporting events, concerts, high schools, private parties, and any event.
Call 928-660-3295 or Email Us.

Booking: Most "non-holiday" days of the year can be booked with a 2-3 week notice.
Notice: If you need a July 2nd, 3rd or 4th Fireworks Display please begin the booking process as early as possible.
Begin in January or February because by March most companies are fully booked. Don't Wait!
PUBLIC NOTICE: We DO NOT SELL FIREWORKS to the PUBLIC.
We provide professional firework displays and effects.
*please do not contact us about cherry bombs, spleen slitters, whistling bung-holes, or kitty chasers. We only carry 6" & 8" shells.
Featured Display: Page, AZ & Lake Powell 2021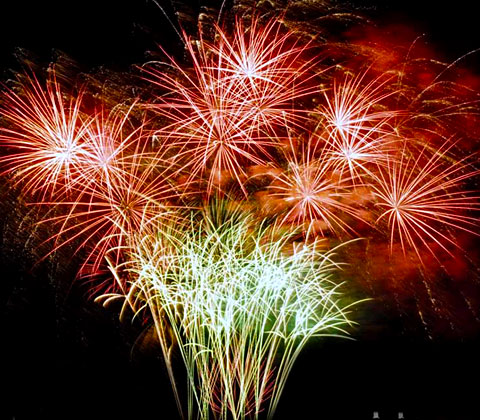 Page, Arizona and Lake Powell host the largest fireworks display in Northern Arizona every 4th of July. An amazing display of over 1773 shells are launched from the rim of the Lake Powell National Golf Course and are visible for miles. With the location and height of the launch site the show can be viewed by boaters on the southern end of Lake Powell and throughout the entire city of Page. The display lasts around 20 minutes and consists of firework shells 1.5", 3", 4", 5", 6", and 8" in size, reaching heights of over 800' feet!
This years (2021) show promises to be one of the best fireworks displays Page and Lake Powell have ever seen! We have redesigned the show again and it is more spectacular than ever. The Grande Finale, featuring 524 shells, promises to be an amazing event of light, sound and synchronicity. New "Low Level Fireworks" are now part of the display and we suggest you watch from a prime viewing spot. The low level fireworks produce shaped effects and visually stunning scenes. Check the City Map for location of the launch site and viewing areas. See All Restricted Areas.
Page, Arizona 2021 Fireworks Display Starts @ 9:00 PM
on Sunday July 4th. (warning shots at 8:30/8:40/8:50)


Newest Video - New Years Eve 2021